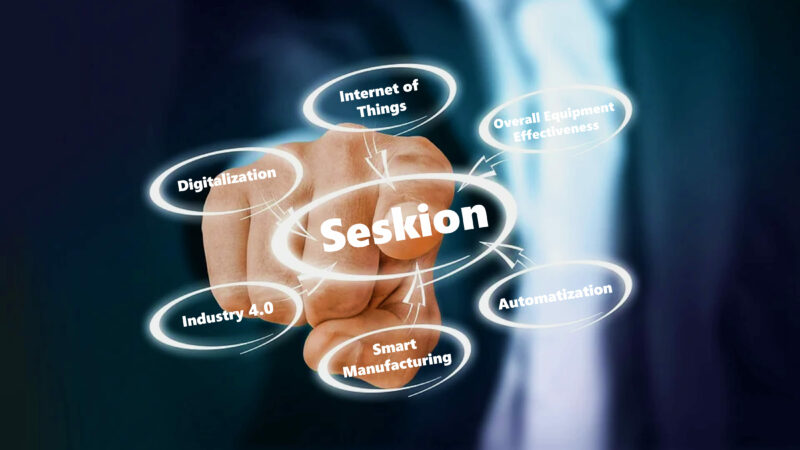 Software Development
In the era of digitalization, the Internet of Things (IoT) and Industry 4.0, manufacturing companies need customized solutions in terms of resource efficiency, quality assurance and increased productivity.

The benefits and advantages of automated production processes, digital production control and monitoring are reflected in key figures such as overall equipment effectiveness (OEE) or, for example, in the parameters of lead times and delivery reliability.

As an international automation specialist, Seskion is focused from A to Z on innovative, requirement- and customer-specific solutions. We support you qualified and reliable in close communication and work out together the most effective solution and its concept.

Our objective: For maximum efficiency and profitability, the creation of technologically mature automation of individual tasks and processes, exactly according to your requirements and wishes.

For the realization of your defined business objectives, we are your competent and reliable partner in the wide-ranging sector of automation technology for the selection and application of custom-fit strategies and technologies – from the initial phase to implementation and final handover.
Software development in practice
From manual or automated data acquisition with measuring devices, over execution automation by means of PLC interfaces, to data analysis and local or cloud-based storage and evaluation, Seskion GmbH offers its customized software development for all areas.
Detail competence
Our team designs and develops applications for you in all common programming and scripting languages. The development is closely oriented to your processes and aims at innovative solutions in test environments.
Furthermore we offer the realization of embedded, Windows, Linux and database applications. In addition to user-friendly interface programming, we have also created test automation in industrial production and monitoring software for large-scale conveyor systems.
Timely service provision

Intensive customer service