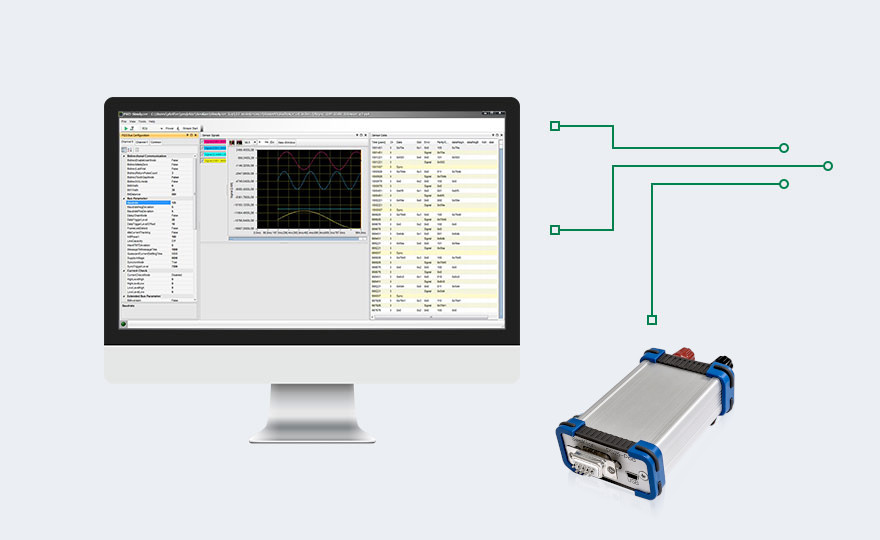 Hardware and software
PSI5 POD
The PSI5 POD offers selected functions of the PSI5-Simulyzer and is therefore the right interface box for less complex measurement situations.
Simplified development of sensor technology

Visualization / analysis tools in the PSI5 software

Test and simulation function
Professional data simulation
Facts about the PSI5 POD
In addition to the standard version, SesKion also offers modified versions as well as advanced hardware and software solutions for special measurement requirements.
Standard Windows Gui application (optional): The protocol-specific Gui application offers a wide range of settings from the definition of signals, baud rates and error detection to trigger events. The visualization of the PSI5 bus communication facilitates troubleshooting and can also be easily saved. The PSI5 data is recorded with time stamps, whereby both import and export of data is possible.
API-ANSI-C (included in the box)
LabVIEW Lib (optional)
---
Latest versions:
| | |
| --- | --- |
| Interfaces | USB 2.0 and connections for control unit and sensor |
| Power supply | via USB or external plug Power supply unit |
| Compatible systems | Windows-7 +10, Microsoft .NET Framework 2.0, Linux (only API, no GUI) |
| Recording options | – |
| Data export | .csv-file (Excel) and .tdms-file (NI) |
| PSI5 Baud rates | Standardized baud rates 125/189 kbit/s |
| Modes | All operating modes of the PSI5 specification |
Simulyzer-Box
1.1101   PSI5-POD USB-Box hardware, 1-channel, for ECU mode + Windows software package PSI5-Simulyzer analysis
Optional hardware additions
1.2101   Optional CAN Interface – PSI5-POD
Additional
9.0001   Optional warranty extension of Simulyzer Box to 3 years
9.0011   LabView-2016 Library, 32- or 64-bit. PC-ID or Box-SN bound license
9.0012   LabView-2016 Library, 32- or 64-bit. Company license
PSI5 POD
The PSI5-POD takes the role of an ECU and supplies the sensors with power and sync-pulses. The data communication between the PSI5-POD and up to 4 sensors is displayed and recorded.
The following restrictions to the PSI5-Simulyzer:
| Feature | PSI5-Simulyzer | PSI5-POD |
| --- | --- | --- |
| ECU mode of operation | yes | yes |
| Passive mode of operation | yes | no |
| Sensor mode of operation | yes | no |
| Maximum number of PSI5 interfaces | 2 | 1 |
| CAN interface for routing PSI5 frames to CAN | yes | yes |
| Baudrates | variable between 89kBaud and 250kBaud | 125kBaud and 189 kBaud |
| CRC / Parity check | both | both |
| BiDir frames to the sensor | yes | not implemented yet |
| Analogue reference inputs | 4 | 0 |
| Analogue output of received PSI5 frames | 4 | 0 |
| Usage of standard Win-GUI app | yes | yes (reduced functionality) |
| Usage of API | yes | yes (reduced functionality) |
| Selectable supply voltage for sensor | variable | 3 voltages: 5.15V, 6.65V or 7.7V |
| Sync-pulse height | variable 0V and 20V | 4.8V higher than the selected PSI5 voltage |
| acquisition of physical interface voltage and current curves | yes | no |